Posted by teacherjulie @ 9:05 pm
Being the world's largest publisher and distributor of more than 600 original titles annually, Scholastic continues to pursue different initiatives because it is committed in helping build a nation of readers. In its effort to create a new generation of successful readers, Scholastic, with its two latest projects will harness the power of the Internet.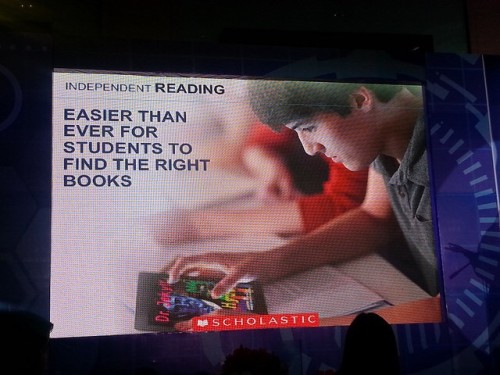 Scholastic Asia President Frank Wong says, "Scholastic Asia knows the importance of reading in nation-building. Much has been said about how technology has become a challenge for raising a new generation of readers. At Scholastic, we view challenges as opportunities, and have developed two key literacy programs which utilize the benefits of internet technology. These are Literacy Pro and Literacy Pro Library."
Scholastic Literacy Pro is an online monitoring program which provides teachers the following features: accurate and timely reports on their students' progress and performance. These information give the teachers research-based insights for them to make informed teaching and learning decisions. It promotes the student's growth in reading by developing an individualized reading plan, with corresponding teacher reports.
Literacy Pro has a three-pronged plan to creat successful readers involves the following action points:
• ASSESS : a student's reading progress is measured on a regular basis through a LitPro Test. The results give the teacher a fast and accurate assessment tool for evaluating his performance.
• INFORM : LitPro enables the teacher to have access to data and reports which also includes Lexile Reading Proficiency, to better understand a student's learning needs. This paves the way for the facilitating further reading skills development. Scholastic developed the Lexile Framework for Singapore schools which allows the teacher to determine the reading level of the students.
• DEVELOP : A student is encouraged to read more when he or she is given the right books according to his or her individualized reading plan. Depending on the student's reading level and proficiency, the Lexile Framework if able to find the right books to read.
The Scholastic Literacy Pro Library is an ebook library which gives readers of different proficiency levels unlimited access to more than 650 fiction and nonfiction ebooks.
The benefits of the Scholastic Literacy Pro Library are as follows:
• There are 150 new titles every three months and LitPro quizzes for all titles.
• Readers will surely have a great time browsing ebooks of different genres with complementing photos and illustrations.
• A word-by-word read aloud feature help younger readers master pronunciation while promoting listening comprehension.
• A glossary feature instantly links readers to the definition of difficult words.
• Audio recorder which lets students practice fluency and a note pad which promotes writing skills. Students may also receive instant feedback from their teachers through the audio recorder.
• The Scholastic Literacy Pro Library also has a search and assign feature that helps teachers find the right books for each and every student.
This one-of-a-kind library may be accessed by students at home, in school, or anywhere with Internet access.
The following schools are among the first educational institutions that implemented this groundbreaking programs from Scholastic: MGC New Life Academy in Bonifacio Global City, De La Salle – Zobel in Alabang, Muntinlupa City and Makati Hope Christian School in Makati City.
More schools are scheduled to join their ranks as early reports have produced positive results among young readers in the aforementioned schools.
~~~~~~~~~~~~~~~~~~~~~~~~
For more info on Scholastic products and programs, email educteam@scholastic.com.ph, you may also contact (02) 944READ (7323) or visit http://scholastic.asia/en today.