Posted by julie @ 8:59 pm
Unless you've been living under a rock, you've seen these almost everywhere: at the bookstores, on Social Media posts, on your officemate's desk and maybe even in your sister's room. If you guessed that what "these" are being referred to as coloring books, then yes, you are right. Coloring books are what people are going crazy about these days.
To be precise, these coloring books are called adult coloring books. The designs of these adult coloring books vary, from botanicals, flower gardens, under-the-sea creatures, and even cities all over the world. Unlike when you were still in school and there were "right and wrong" ways to color things, this time, you can let your imagination run wild and you get to choose the colors you fancy.
Materials: coloring books or pages, colored pencils, colored pens.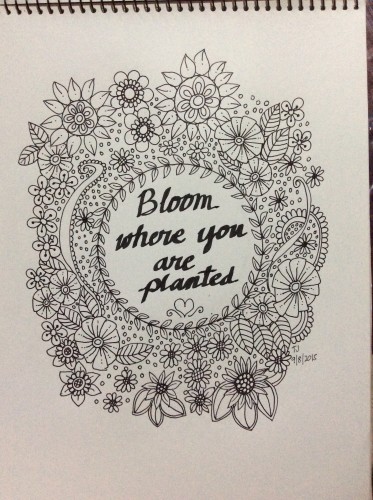 There are other activities we can indulge in to bring out the artist in us.
Doodling
Doodling seems like a mindless task but it isn't so. To doodle is to draw while doing another task like listening to a lecture or music. Although doodles are usually simpler versions of objects, they may be as creative as other artistic pursuits. Doodle designs are used as wall paper and gift wrap designs among others. Doodle books are also popular as coloring books.
Materials: sketch pad or sheets of paper, pens or pencils.
Hand-drawing
Artists who draw are content providers for those who love to color. Drawing by hand gives the artist a purpose, a vision and an outlet for creative energy. Hand-drawing requires concentration, creativity and imagination to be able to present ideas in images that will be understood by others.
Materials: sketch pad, a variety of pens for different strokes, colored pencils or pens
Zentangling
Zentangling is not like doodling because it has specific styles and structured patterns. Zentangles are easy-to-learn, fun and relaxing. This art form was founded by Rick Roberts and Maria Thomas.
Materials: sketch pad, pens, Zentangle book for reference
Paper-cutting
Paper cutting is one of the more difficult art forms to master because it needs precision and control especially when using the sharp blades of cutters and scalpels. This art, though a bit difficult, can be rewarding too. The wonderful images and messages being cut are awesome to behold.
Materials: Cutting mat, metal ruler, pencil, scalpel, blades, tracing paper, backing material
Painting
Painting is an artistic pursuit that may be difficult for some. This entails a considerable amount of concentration, planning and organization of ideas. It is worth the time and effort, however, when one is able to execute a masterpiece or two.
Materials: easel, chair, canvas, brushes, oil paints, acrylic, watercolor, mixing disn
Chalk art
Chalk art is writing on dark surfaces or at times, on streets and outdoors. These days, newer restaurants and cafes have their special menu for the day written on a small blackboard that the clients can easily see.
Materials: blackboard, different colors of chalk
Mandala
A mandala is a word derived from the classical Indian language of Sanskrit. Translated to mean "circle," this is more than a simple shape with intricate designs stemming out from one focal point.
Mandalas represent wholeness and is illustrated as a model for the organizational structure of life itself showing our relation to the infinite beyond our bodies and minds. In various religious beliefs a mandala symbolizes different things: timekeeping, visions, beliefs and religious expressions as well as meditation.
There are several coloring books featuring the mandalas which are deemed therapeutic to draw and color. Many attest it relaxes the mind.
Materials: sketch pad, pencils, pens, ruler, pencil compass
Art stamping
Stamps are fun because these have already been crafted and ready to be put together to create a vision. Stamps can be made up of letters, words and things. There are artists who make their own stamps using rubbers erasers where they carve their designs. These can be incorporated in different art forms like calligraphy, journaling,and drawing.
Materials: pre-made rubber stamps, ink, paper, colored pens, pens.
Calligraphy
Calligraphy is the art of decorative handwriting. Mostly used to write quotations, these can be interspersed with drawings. Hand-written invitations are usually made using calligraphy.
Materials: calligraphy pens, ink, papers or sketch pad, pencils, erasers, ruler, calligraphy books as reference.
Journaling or journal-writing
Journaling is akin to diary writing, only better. Journaling is like a visual board where dreams and goals can be put in written perspective. One doesn't have to write in these journals daily, but regularly updating is a must.
Materials: a good journal notebook, stamps, colored pens, fabric tapes, colored papers, stickers
It is apparent that people these days want a break from digital stimulation and would rather work using their hands while at the same time honing their imagination and creativity. They are also able to relax and meditate while doing so.