Posted by teacherjulie @ 7:01 am
Among the many benefits of doing jigsaw puzzles, these three points stand out.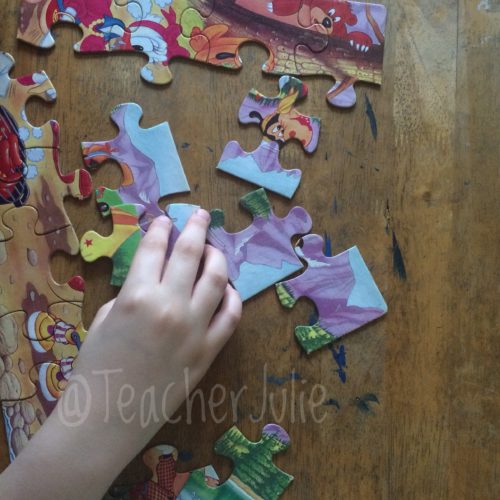 1. Physical Skills: as the child manipulates the puzzle pieces to fit together, eye-hand coordination as well as fine-motor skills are developed.
2. Cognitive Skills: memory enhancement, problem-solving, shape and color recognition are just a few learning skills enhanced during jigsaw puzzle activities.
3. Emotional Development: for those who are having difficulty putting the puzzle pieces together, patience is slowly being developed as the child puts the pieces together.
Jigsaw puzzle activities can also be given as a goal setting objective that progresses from a few pieces to multiple pieces as the child becomes more adept with the activity.
This entry was posted on Wednesday, October 26th, 2016 at 7:01 am and is filed under ADHD, Autism, behavior modification, Being a (Special Ed) Teacher, Challenge Yourself, Down Syndrome, Interesting tidbits, Just For Fun, special education, Teaching Techniques. You can follow any responses to this entry through the RSS 2.0 feed. You can leave a response, or trackback from your own site.