Posted by julie @ 12:21 am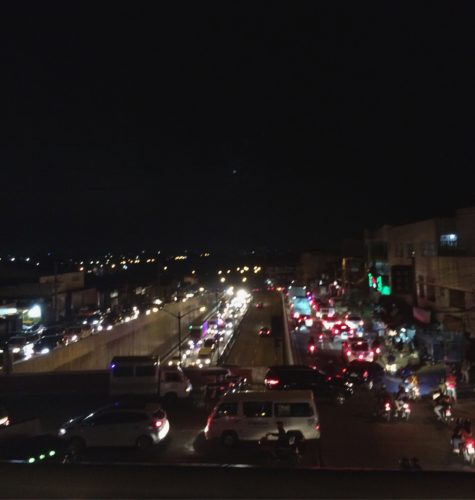 Tonight, thankfully the youngest child and I have arrived before the rains came. Going home is a struggle for a lot of people here in Metro Manila, especially to those who ride the public transport. And even if people drive their own cars, the traffic situation is horrible especially during afternoon rush hour till late evening. Or maybe it is just here in our area?
How to keep sane inside a vehicle during rush hour traffic in Metro Manila (and elsewhere there's traffic)?
Listen to music that you really love. If you are a commuter, bring your own earphones to listen to the music that suits your taste because chances are, the public utility vehicle you are riding has its own music. This also prevents you from listening to the incessant yakking of someone sitting close to you. Beware to not play too loud music that you are not aware of the things happening to you.
Organize your thoughts and affairs by being mindful amidst the chaos. If you are driving, you can't do this too much because you need all your faculties on alert during traffic.
For passengers who are not too sensitive with the vehicle's motions, you can update your social media accounts to while away the time or watch a movie or videos on your phone. Be sure to secure your phone with you and that you are still aware of the people around you.
Talk to the person you are with, it will make travel time easier and seem faster. Just don't talk too loud that others are sending you dagger looks.
If you are a passenger, perhaps you can try to meditate amidst the passengers around you. Tune out the noise and concentrate on your thoughts.
Bring food to nibble, breath mints and candies to chew and drinks for when you are thirsty. Don't overdo for you may not be able to take a bathroom break in the middle of EDSA or Marcos Highway riding with 9 other passengers. Make sure that the food is not too aromatic that may incite the hunger pains of the other passengers to be more pronounced.
Be patient. Keep your cool and remember that like you, everyone wants to go home and rest after a tiring day at work.
This entry was posted on Tuesday, October 4th, 2016 at 12:21 am and is filed under About Town, Bits and Pieces, Interesting tidbits, My Thoughts, On the Road. You can follow any responses to this entry through the RSS 2.0 feed. You can leave a response, or trackback from your own site.