Posted by julie @ 9:36 am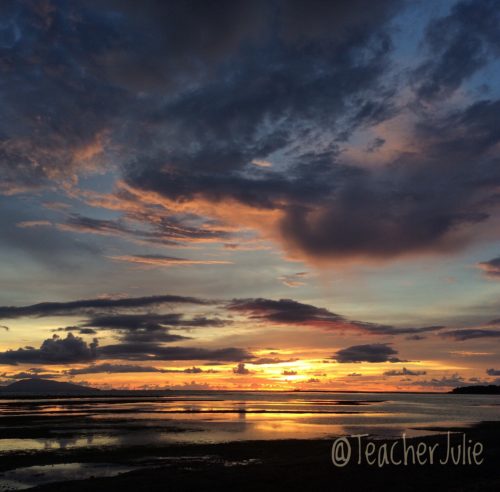 You can still vividly recall snippets of conversation that you can only repeat because there are no more new ones to talk about. If you'd rather not repeat because these tend to make you reminisce what can't be brought back, then don't.
You remember images that carry the warmth of smiles and the gaiety of shared laughter that you will probably not experience with the same people you used to share these with. You have had experiences that taught you new things and remembered old ones too. Let these be your learning experiences.
But now, you can remember and not feel the pain that goes with friendship unhinged without closure, without knowing the answers to questions left unsaid and to doubts that are just best left buried along with the memories.
You tell yourself that people should take a walk in your shoes before they judge you. You want to say that people should not base their opinions on one or two episodes of character weakness because everyone undergoes this because no one is perfect.
You tell yourself that despite your imperfections, there are people who love you for who you are, without judgment, without reservations and without seemingly trying to measure if you come up to their expectations of perfection that they seem to perceive themselves to have.
You tell yourself that you do not feel sadness anymore because you have moved on and experienced healing of your heart that was broken for reasons unknown, your mind bothered no more and your soul longing for those people who can see beyond your quirks and imperfections.
Now, you'd rather be with people who love to talk about ideas and other pursuits. Now, you can be your own person and not be perceived as someone you are not, based on the company that you used to keep and that somehow defined you as the person you are not.
Stand up and be a better version that your best you. Not because you have other interests mean that you are less than what other people see themselves.
Let this be your mantra: that it is better to focus on the more positive outlook in life than to dwell in the past and lament those who tried to break your soul and the essence of your person.
This entry was posted on Tuesday, July 26th, 2016 at 9:36 am and is filed under Bits and Pieces, Interesting tidbits, My Thoughts. You can follow any responses to this entry through the RSS 2.0 feed. You can leave a response, or trackback from your own site.