Posted by julie @ 10:23 am

Weekend was a ho-hum time spent at work on Saturday and on Sunday, a lunch out and Mass in the early evening.
I missed taking photos of one of my favorite subjects last Saturday: sunset. There is a somewhat wonderful view on the third floor level in my MIL's home but I had to go home before the setting of the sun.
I got inspired to take a photo instead of this shell (or capiz) lamp hanging on the third floor trellis which I have featured here and here already.

These types of shell lamps are great for outdoors.
Before heading for home I searched for ideas on lamps when I saw this photo below.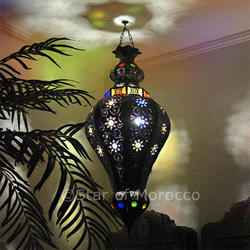 Photo taken from a Moroccan lanterns site. Nice effect I must say.
The Moroccan lanterns are great for indoors as I have seen in the photos due to the patterns these cast on the ceiling whereas the shell lamp in the other photo is used outdoors.
Which do you prefer?
This entry was posted on Monday, January 19th, 2009 at 10:23 am and is filed under Information, Interesting tidbits, Philippines, special education, Weekend Snapshots. You can follow any responses to this entry through the RSS 2.0 feed. You can leave a response, or trackback from your own site.