Posted by teacherjulie @ 8:44 am
Thanks Mitch for giving me an Uber Amazing Award.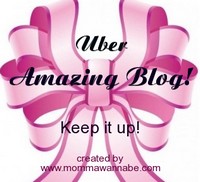 Teacher Julie – for the special care, attention and dedication that she gives out to special children.
Aw, this is sweet. Thanks again, Mitch 🙂
I now pass on this award to my momfriends at FilipinoMomBlog.com
This entry was posted on Monday, December 1st, 2008 at 8:44 am and is filed under Award, Interesting tidbits. You can follow any responses to this entry through the RSS 2.0 feed. You can leave a response, or trackback from your own site.