Posted by teacherjulie @ 5:01 pm
Thanks Rachel, one of the sweetest blogger and real-life friend this side of the blogosphere, for giving me another award, this time a Brillante Weblog Premyo award.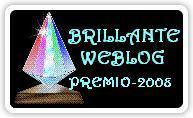 Getting an award(s) is such a happy experience especially if these came from well-meaning friends. For me, these awards are not just fillers in between posts especially to those blogs that generate income. For me, giving one as well as receiving one are both fulfilling and makes one feel appreciated.
Yes, these so-called awards may be just a virtual thing, not unlike real gifts like a bottle of perfume, a book, a pair of Dansko, or personalized thingamajigs, but these are still worth writing a post about as a way of saying "Thanks".
This entry was posted on Thursday, August 14th, 2008 at 5:01 pm and is filed under Award, Information. You can follow any responses to this entry through the RSS 2.0 feed. You can leave a response, or trackback from your own site.